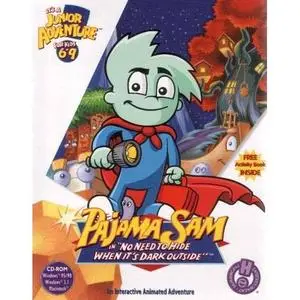 Pajama Sam's No Need To Hide When It's Dark Outside
PC | Children's Adventure Game | 110 Mb (55 + 55 Mb WinRAR)| English
Original Description
There's no reason to be afraid of the dark, as Sam's about to find out. Fed up with his fear of the dark, Sam transforms himself into Pajama Sam, the world's youngest superhero, and resolves to confront Darkness. With help from King the mine car, Otto the boat, and a host of fascinating characters, Pajama Sam soon finds that things aren't quite what they seem in the incredible Land of Darkness. Kids direct this interactive adventure through a giant tree house, underground river caverns, and even a sunken mine. Teamwork, clever thinking, and some creative problem solving lead the hero, and your kids, to a surprising conclusion–maybe Darkness isn't as bad as it seems.
Originally published by humoungous.com, who also made Putt Putt, Freddi Fish and SpyFox.
Main game only, Demos removed
Click
here
for part 1 | Click
here
for part 2
If you like these children's games from the 1980s, I have a few more which I could upload. Please let me know.