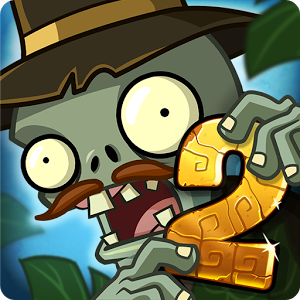 Plants vs. Zombies™ 2 v3.7.1 + Mod + OBB Data for Android | 471 MB
Play the sequel to the hit action-strategy adventure with over 30 Game of the Year awards. Meet, greet and defeat legions of zombies from the dawn of time to the end of days. Amass an army of powerful plants, supercharge them with Plant Food and power up your defenses with amazing ways to protect your brain.
Game Features
NEW PLANTS! NEW ZOMBIES!
Meet Fire Peashooter, Pepper-pult, Bonk Choy, Laser Bean, Pea-nut, and the prickly Homing Thistle: Just a few of the powerful new plants that will defend your lawn through time. Go toe-to-missing-toe with dozens of new zombies including Troglobite, Swashbuckler Zombie, Chicken Wrangler Zombie, Jetpack Zombie, Wizard Zombie, Mermaid Imp and Weasel Hoarder – the wiliest zombie of them all!
AMAZING WAYS TO PROTECT YOUR BRAIN
Choose your plants wisely for each level and plot out your winning strategy. Use Plant Food to supercharge your plants when you need it most. Freeze, flick and zap zombies off your lawn, using your fingers with simple touch controls.
GET CRACKING IN VASEBREAKER
Defeat endless zombie waves in Vasebreaker, the #1 mini-game from Plants vs. Zombies. Use smashing power-ups like the Butterizer, X-Ray vase vision and more.
UNLOCK YOUR ZEN GARDEN
Battle zombies to win sprouts, then plant them in your very own Zen Garden. Tend to it carefully and be rewarded with extra BOOM in your blooms.
LOOK OUT! ZOMBOT TUSKMASTER 10,000 BC!
Take on Zomboss at the end of each new world. He's coming for you with a host of diabolical inventions designed to challenge your best defenses!
NEW LEVELS OF EXCITEMENT
Unlock ultra-challenging endless levels in every world — Pyramid of Doom, Dead Man's Booty, Big Bad Butte, Terror from Tomorrow, Arthur's Challenge, Tiki Torch-er and Icebound Battleground.
EXPLORE MORE WITH THE TRAVEL LOG
Stumped about where to go next? Consult your Travel Log to embark on exciting Quests created just for you. Complete Quests and level up by earning points and prizes.
Requirements
: 

• Requires Android 2.3 (Gingerbread); ARMv7 1.0 Ghz or higher; 1 GB of RAM

• Features may vary by mobile device
What's New
Keep exploring in Lost City Part 2! Unfold more gold with Gold Leaf in 16 new levels and survive an airborne Zomboss encounter, complete with booby traps. The full update includes:
• 3 new zombies – watch out for Relic Hunter
• 3 fresh plants, like toad-ally awesome Toadstool
• Temple of Bloom Endless Zone
• Repeatable Travel Log Quests – increase your rank with re-imagined levels and new ways to play
As always, let us know what you think by rating us after each update.
Requires Android
2.3 and up
Buy A Premium Account From My Download Links