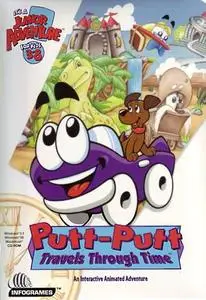 Putt Putt Travels Through Time
PC | Children's Adventure Game | English | 140 Mb (50Mb+50Mb+40Mb)

A good, simple adventure game for children aged 3-8 about a fun purple car and his dog travelling to 1. the age of the Dinosaurs, 2. medieval times, 3. the wild west, and 4. the future.
Main game only, additional demos removed. Box claims that program can be run on Mac, but this is not verified.
Original Game Description
Putt-Putt Travels Through Time is the fourth in the Putt-Putt series. These games are part of Humongous Entertainment's Junior Adventure games. They are both fun and educational, and they challenge and inspire kids to think for themselves in creative and flexible ways. Children can play with lovable friends as they discover captivating worlds where they direct the journey at their own pace. The first Putt-Putt game was created by Humongous Entertainment President, Shelley Day, seven years ago as a bedtime story for her son. Now there are numerous Putt-Putt games and they have gone on to win many parent and teacher awards. The plot around Putt-Putt Travels Through Time is set around Putt-Putt, a purple convertible, and his school supplies, which are accidentally pulled into Mr. Firebird's Time Machine. On his way to school he makes a quick visit to Dr. Firebird's Lab. He has his calculator, his lunch box, his prized history report, and Pep, his faithful dog. The good doctor's time machine is out of whack, and it scatters all of Putt-Putt's school supplies throughout the centuries. And Pep valiantly jumps into the time machine to save the history report, and he is also lost in time. The aim is to help Putt-Putt travel through the eons to find Pep and his gear and return them to the present so that Mr. Firebird can close the Time machine. The product is available on a CD-ROM that can be used with a PC with Windows or a Macintosh.
Junior Adventures help children, ages 3 to 8. Games and activities test memory, challenge math skills and encourage creativity. Easy-to-maneuver controls make this game easy even for the younger players.