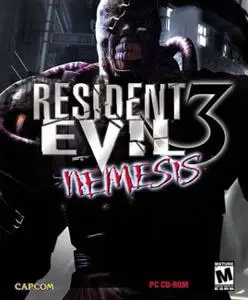 Resident Evil 3 Nemesiss | PC | 473 MB
The third chapter in Capcom's series of horror games isn't the best. It's more straightforward than Resident Evil 2, and it's not as frightening as Resident Evil Code: Veronica. And though it follows the formula of previous Resident Evil games (you'd be hard-pressed to find a more formulaic series), it does add some new features that help keep the game interesting.
Resident Evil 3 stars Jill Valentine, who first appeared in the original. You control Jill Valentine, one of the playable characters from the first game. Jill has returned to the zombie-infested streets of Raccoon City after resigning as a member of S.T.A.R.S., an elite police unit. She's there to investigate the headquarters of the Umbrella Corporation, the evil conglomerate that is behind the zombie plague. While in the city, she must avoid the constant threat of the nemesis, a tough monster that is hunting down S.T.A.R.S. members and obviously isn't interested in the fact that Jill has quit.
It may seem like Resident Evil 3 Nemesis is long on story, but it isn't. You'll only spend a few minutes in the Umbrella headquarters, and the game does little to advance the ongoing story of the series. Instead, it sticks to the basic formula that has made the series popular. You'll solve some door puzzles, fight some zombies, solve some more door puzzles, and then fight some monsters.
Download:
http://rapidshare.com/files/6359475/Resident_Evil_3.part1.rar
http://rapidshare.com/files/6359476/Resident_Evil_3.part2.rar
http://rapidshare.com/files/6359474/Resident_Evil_3.part3.rar
http://rapidshare.com/files/6359482/Resident_Evil_3.part4.rar
http://rapidshare.com/files/6359473/Resident_Evil_3.part5.rar