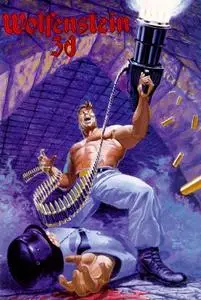 WOLFENSTEIN 3D
PC-GAME | ID Software Inc. | 1992 | Full Version | 1.03 MB
WINNER OF 3 SHAREWARE INDUSTRY AWARDS
INCLUDING PEOPLE'S CHOICE AWARD!
Wolfenstein 3-D has won these RETAIL industry awards in 1992:
"One of the eight most important games ever created" - PC Gamer
"Best Arcade-Action Game" - Software Publishers Association "Codie" Award
"Best Arcade - Action Game" - Compute magazine
"Most Popular Game" - PC World magazine (reader's poll)
"Best Action Game" - Video Games & Computer Entertainment magazine
"Most Innovative Game" - Video Games & Computer Entertainment magazine
"Editor's Choice Award" - Shareware Magazine
"Best Entertainment Software (Finalist)" - PC/Computing
Cool Features
Intense and mood-setting Ad Lib music throughout the entire game.
Incredible digitized effects for Sound Blaster and Disney Sound Source.
Fastest 3D VGA animated full-screen wide game available for IBM PC!
Play with keyboard, joystick, mouse or Gravis Gamepad.
Save and restore games, plus quick-save and quick-load hot keys.
Must be played on an 80286 or better machine.
Does not run on XT systems.
…and much, much more
System Requirements
286 Computer (386+ Strongly Recommended)
528k of conventional memory (2Mb total memory recommended)
3 meg of Hard Drive Space (for shareware)
8 meg of Hard Drive Space (for registered)
Optionally Supported
Sound Blaster/Sound Blaster Pro or 100% compatible (with SB IRQ of 7 or less)
Adlib
Joystick
Mouse
Gravis Gamepad
Disney Sound Source