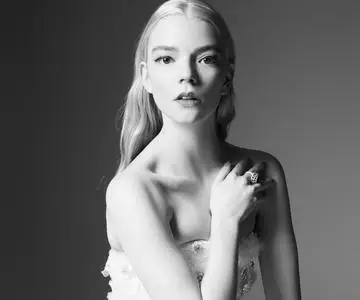 Anya Taylor-Joy - Alan Gelati Photoshoot 2019
13 jpg | up to 2915*3781 | 13.53 MB
Anya-Josephine Taylor-Joy
(born 16 April 1996) is an American-born Argentine-British actress. She first became known for making appearances on the fantasy series
Atlantis
(2015), and had her breakthrough with the period horror film
The Witch
(2015), for which she earned several accolades. She gained further recognition and praise for her role as Casey Cooke in the psychological horror films
Split
(2016) and
Glass
(2019), Lily Reynolds in the black comedy
Thoroughbreds
(2017) and Emma Woodhouse in the comedy-drama
Emma
(2020).
Taylor-Joy also had starring roles in the BBC One drama miniseries
The Miniaturist
(2017), the BBC One crime drama series
Peaky Blinders
(2019), and the Netflix fantasy drama series
The Dark Crystal: Age of Resistance
(2019). She garnered critical acclaim for her performance as Beth Harmon in the Netflix miniseries
The Queen's Gambit
(2020). She was the 2017 recipient of the Cannes Film Festival's Trophée Chopard and was nominated for the BAFTA Rising Star Award.