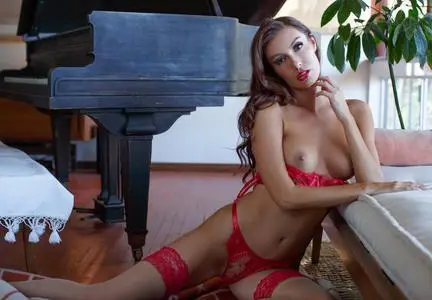 Carolina White - Agent X Photoshoot 2022
49 jpg | 3840*5760 | UHQ | 174.59 MB
"When I think of Playboy, I think of beautiful, strong, and confident women,"
says
Carolina White
on the set of her second feature from the photographer,
Agent X
.
"I feel humbled and honored to shoot for such an iconic brand."
Carolina is dressed in red lingerie on the location of a lovely home as we get to know her better.
"I enjoy the simple things in life,"
says Carolina of herself.
"I would consider myself pretty down to earth and prioritize my mental health and happiness."
A lover of fantasy, Carolina is often wrapped up in a book or movie when she's not modeling or fostering dogs.
"I am a huge Marvel lover,"
she shares.
"This is an embarrassing confession, but I have also been obsessed with erotic fan-fiction. I can read a book and become completely immersed in the characters and fantasy. My imagination runs wild— it's my equivalent to porn."
Her work as a model is just as thrilling in her everyday life.
"I have always felt comfortable being nude,"
she shares.
"I love my body and feel more empowered and confident when posing nude. It just feels so natural."
Check out more from Carolina White right here on AvaxHome!