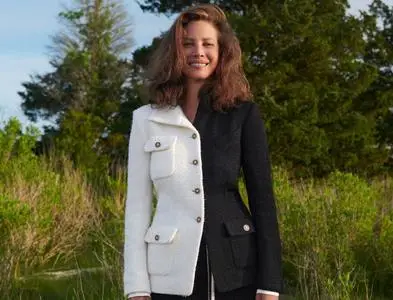 Christy Turlington - Sebastian Faena Photoshoot
7 jpg | up to 1188*1600 | 3.01 MB
Christy Nicole Turlington Burns
(born
Christy Nicole Turlington
; January 2, 1969) is an American supermodel. She first represented Calvin Klein's Eternity campaign in 1989 and again in 2014 and also represents Maybelline. Turlington was named one of Glamour's Women of the Year in 2013, and was named as one of Time's 100 Most Influential People of 2014. Turlington gained fame in the late 80s and early 90s as a supermodel and was during the peak of her career as a top designer favourite.
In 2010, Turlington founded Every Mother Counts, a non-profit 501©(3) organization dedicated to making pregnancy and childbirth safe for every mother. Every Mother Counts informs, engages, and mobilizes new audiences to take actions and raise funds that support maternal health programs around the world. It was founded after the completion of Turlington's documentary,
No Woman, No Cry
, a film about pregnant women and their caregivers in Tanzania, Bangladesh, Guatemala, and the United States. In 2013, Turlington directed the documentary film,
Every Mile, Every Mother
which explores Every Mother Counts' participation in long distance running to highlight distance as a barrier for women to receive quality care.