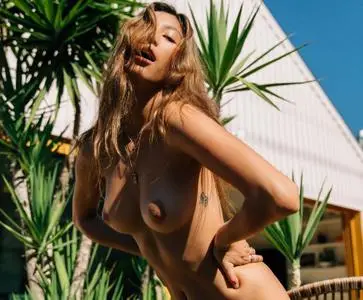 Dominique Lobito - Sophia Sinclair Photoshoot
31 jpg | 1826*2739 | 33.17 MB
"A woman's body is art,"
says newcomer
Dominique Lobito
on the location of a beautiful home in Glendale, California. On the set with the photographer,
Sophia Sinclair
, Dominique tells us that she's thrilled to cross Playboy off her career goals.
"Since I was young, I always fantasized about being a Playboy model. I grew up watching "The Girls Next Door" and would practice modeling in the mirror,"
laughs Dominique.
"I have finally got to live through one of my lifetime goals! Life could not be sweeter."
When it comes to being naked on camera, Dominique jokes that she hopes her dad doesn't find out and speaks about its vulnerability.
"Posing nude is catching you in your most raw moment. I find it beautiful, actually,"
she says.
"My experience with Playboy thus far? Fantastic! I loved working with an all-female staff. Ladies need to stick together! That is when I feel most empowered."
See more of Dominique Lobito again soon, right here on AvaxHome.