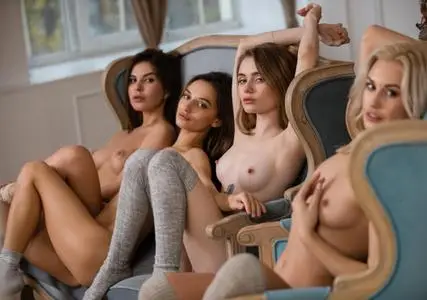 Gloria, Alice, Vivianne & Demi - David Merenyi Photoshoot
25 jpg | 1826*2739 | 19.92 MB
International models,
Alice Shea, Vivienne Solange, Demi Fray, and Gloria Sol
get together for a little holiday party with the photographer,
David Merenyi
. On location in their hometown of Kiev, Ukraine, these gorgeous women do a secret Santa exchange, and the results are stunning. All dressed in white sweaters and lingerie, they begin to unwrap each other sweetly in front of the brightly lit tree.
"The shoot was amazing,"
says Vivienne.
"David and his team are the most professional, talented, and fun people I have ever worked with!"
When it comes to posing nude, these skilled models see it as art and absolutely love it.
"My passion is my job,"
Vivienne smiles.
"I love posing nude. I am taking part in creating art within a team — plus, my body is the object of beauty itself. It's just great!"