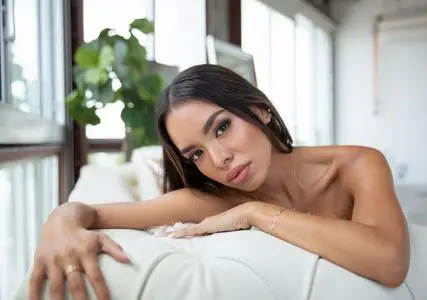 Goddess Angelina - Agent X Photoshoot 2021
34 jpg | 1826*2739 | 30.32 MB
Get to know
Goddess Angelina
, a Miami-based model from Galveston, Texas.
"It's a really small town outside of Houston, and there isn't much to do, which is why I like it,"
laughs Angelina.
"It's a calm town."
What makes her, 'her,' you ask? It's her easy going personality and strong work ethic.
"I'd consider myself to be a very independent and grounded person,"
Angelina shares of herself.
"I'm hard-working and really driven."
There was, at one point, where Angelina considered a different career path.
"I'm passionate about animals,"
she tells us.
"I love animals and was always the one to grow an emotional attachment to pets growing up. I even considered being a veterinarian."
Though she is still passionate about animals, the modeling industry has treated her well.
"I'm most proud of being able to pay off my parent's house by the time I was 21,"
she smiles. Learn more about Goddess Angelina through her pictorials, right here on AvaxHome.