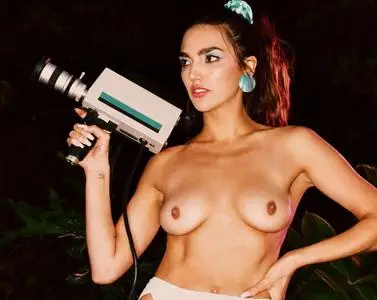 Hailee Lautenbach - Playboy Playmate Spring 2021
19 jpg | up to 2188*2880 | 48.45 MB
Meet Hailee Lautenbach, our Spring 2021 Playmate! A model and actress from Portland, Oregon, you most likely follow Hailee on social media.
"I'm pretty much an open book,"
she says of herself.
"I have no filter on social media — following me on Instagram is basically like watching a reality show."
Outspoken, vibrant, and passionate about her work, Hailee started modeling at 14 years old and always knew she was destined for Los Angeles.
"When I turned 18, I applied to the University of Oregon, but I knew deep down that wasn't what I wanted to do,"
she shares of her journey.
"I wanted to go to Los Angeles and pursue modeling full time. I met with a bunch of agencies and ended up getting signed. Moving to LA was such a whirlwind."
After being in the industry for years, Hailee ended up falling in love with acting, too, but ultimately loves to connect with friends she meets online.
"I act, model, and do a lot of content creation for social media. I love being silly and inspiring to my followers,"
says Hailee.
"I'm also really open about my mental health. Once I started to get treatment, I started sharing with my followers. I got so many DMs from people who told me my posts helped them. I was like, 'well, dang!'"
As for being our Spring 2021 Playmate, Hailee is just as thrilled as we are.
"I realized that I would love to be a Playmate, but I figured I would never be picked,"
she says.
"Then my manager told me I booked the gig. I threw my phone across the room. It was such a cool moment. It felt meant to be; like a dream was coming true."
Check out Hailee's Spring 2021 Playmate pictorial out now, here on AvaxHome!