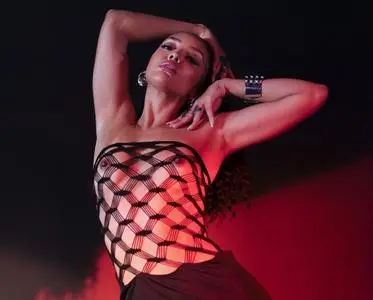 Izabela Guedes - Playmate Winter 2021
27 jpg | up to 1280*1707 | 8.46 MB
Please welcome
Izabela Guedes
, Playboy's first-ever quarterly Playmate. Originally from Brazil, our Winter 2021 Playmate tells us about herself.
"I'm Afro-Brazillian. Growing up in Brazil, we lived in the countryside,"
says Izabela of her upbringing,
"where my mom, a single parent, worked as a teacher."
A person with many passions, Izabela dabbles in a little of everything.
"I've always been ambitious. When I do something, I give it my all,"
she tells us.
"Whether it's a hobby or my career, I want to excel and be the best."
A model, DJ, writer, business owner, and swimwear designer, Izabela doesn't believe in just having one profession.
"My attitude is: why not try a little of everything? People say you should focus on one thing, but I feel like my possibilities are endless,"
she says.
"I want to continue modeling and working on my swimwear line. I'm also practicing my deejay skills and working on writing and producing a TV show. I even have a side hustle in the wine business."
As for Playboy, Izabela has been a longtime admirer.
"Playboy is such a big deal in Brazil, so I've been a fan of the brand for a while,"
she says.
"It's crazy to think that back in the 1950s, women were posing naked. You had to be fearless to do it then. Even today, you still have to be."
Get to know our Winter 2021 Playmate, Izabela Guedes, better, right here on AvaxHome.