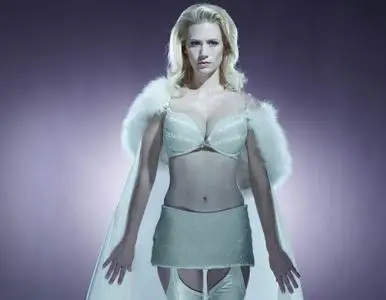 January Jones - X-Men: First Class Promos
33 jpg | up to 3897*5200 | 28.77 MB
X-Men: First Class
(also marketed as
X: First Class
) is a 2011 superhero film based on the X-Men characters appearing in Marvel Comics. The fifth installment in the X-Men film series and a prequel to
X-Men
(2000), it was directed by
Matthew Vaughn
and produced by
Bryan Singer
, and stars
James McAvoy, Michael Fassbender, Rose Byrne, January Jones, Oliver Platt
, and
Kevin Bacon
. The film is set primarily in 1962 during the Cuban Missile Crisis, and focuses on the relationship between Professor Charles Xavier and Erik Lehnsherr / Magneto, and the origin of their groups—the X-Men and the Brotherhood of Mutants, respectively, as they deal with the Hellfire Club led by Sebastian Shaw, a mutant supremacist bent on enacting nuclear war.
Producer
Lauren Shuler Donner
first thought of a prequel based on the young X-Men during the production of X2; producer
Simon Kinberg
later suggested to 20th Century Fox an adaptation of the comic series
X-Men: First Class
, although the film does not follow the comic closely. Singer, who had directed both
X-Men
and
X2
, became involved with the project in 2009, but he could only produce and co-write First Class due to his work on other projects. Vaughn, who was previously attached to both
X-Men: The Last Stand
and
Thor
, became the director, and also wrote the final script with his writing partner
Jane Goldman
. First Class replaced a Magneto prequel film that had been in development, but had entered development hell; the Writers Guild of America arbitration gave a story credit to Magneto writer
Sheldon Turner
. Principal photography began in August 2010 and concluded in December, with additional filming completed in April 2011. Locations included Oxford, the Mojave Desert and Georgia, with soundstage work done in both Pinewood Studios and the 20th Century Fox stages in Los Angeles. The depiction of the 1960s drew inspiration from the James Bond films of the period.
First Class premiered on Ziegfeld Theatre on May 25, 2011, and was released in the United States on June 3, 2011. It was a box office success, becoming the seventh highest-grossing in the film series, and received positive reviews from critics and audiences, who praised its acting, screenplay, direction, action sequences, visual effects, and musical score. The film's success re-popularized the X-Men film franchise with various installments following, including a number of sequels focusing on younger iterations of the X-Men characters, with
X-Men: Days of Future Past
(2014),
X-Men: Apocalypse
(2016), and
X-Men: Dark Phoenix
(2019).