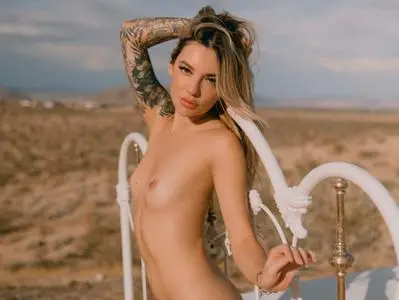 Junipr Keiko - Tina Louise Photoshoot 2021
35 jpg | up to 1936*2739 | 29.75 MB
Head to the desert with newcomer
Junipr Keiko
. On location in Joshua Tree, California, Junipr poses atop a single bed for the photographer,
Tina Louise
.
"I'm soft-spoken and introverted. I believe softness is strength, and I lead with love in all that I do,"
says Junipr of herself. A model and artist, Junipr gives whole self to the creative process.
"My art is my passion and my one true love,"
she begins.
"Through the years, it's taken many forms, but it's always a reflection of my heart. It's the only thing in this world that will ever wholly and completely be mine. Why wouldn't I give it everything I have?"
When it comes to posing nude, Junipr finds there's so much beauty in showing up confidently and authentically herself.
"This is the vessel that I'm fortunate enough to walk through life in, and I couldn't be more proud of it,"
she shares.