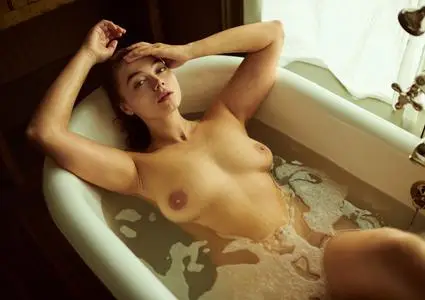 Khrystyana - Playmate of the Month for November 2020
47 jpg | up to 2379*2739 | 27.28 MB
November 2020 Playmate, Khrystyana, will inspire self-acceptance.
"My superpower is seeing the beauty in everyone,"
she tells us. Coming to Playboy from Magadan, Russia, and now based in New York City, you may recognize Khrystyana from her time on
America's Next Top Model
, where she was one of the final three. Though the concept of self-love was always prevalent in her life, growing up in Ukraine, Khrystyana had a hard time practicing it towards herself.
"Anything above a size four is considered overweight; I was seen as fat,"
she shares.
"I tried to lose weight and fit in as much as I could. My self-image wasn't good."
After her mother experienced a near-death incident due to extreme dieting, Khrystyana's view on beauty flipped.
"My mom recovered, but my perspective on beauty completely changed,"
she says.
"I refused to let those standards dictate my life. As soon as I flipped the switch and started embracing who I was, modeling opportunities started coming my way."
Now, a well-known curve model, Khrystyana, is passionate about inclusivity in her industry. That's why she started a project called "The Real Catwalk."
"We put on a guerrilla-style show. Our intention was to show that everyone is beautiful and worthy of walking on the runway, regardless of gender, shape, size, abilities, sexuality, or ethnicity,"
she shares. For Khrystyana, though, embracing herself is a continuous journey, and calling herself Miss November 2020 is a part of that.
"Being a Playmate is a big deal to me — this is like the pinnacle of my modeling career— and I'm glad I can use my platform to talk about self-love."