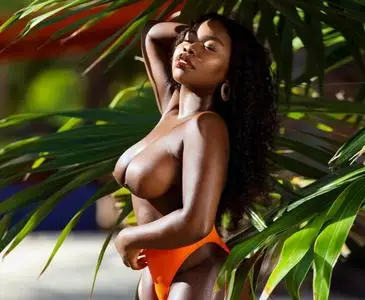 Marsha Elle - Playmate of the Month April 2020
55 jpg | up to 2112*2880 | 57.93 MB
Meet the extraordinary Miss April 2020 Playmate,
Marsha Elle
, the first amputee Playmate ever to be featured in Playboy magazine's 67-year history.
"Modeling has helped me amplify my story and show other disabled people that we're beautiful the way we are,"
says Marsha. A singer-songwriter, legal eagle, motivational speaker, and model, Marsha Elle is a striking force. Coming from Haiti and now living in Miami, Florida, Marsha is making history in the pages of Playboy, sharing her astonishing inspiring story with us.
"I was born with proximal femoral focal deficiency, a condition that affected how my right leg was growing,"
she explains.
"Throughout my adolescence, I received different treatments —including an amputation — and tried various types of prosthetic legs to compensate for the way my body was growing."
Like many teens, Marsha struggled with classmates, body image, and more, but it wasn't until she went to an amputee camp at 16, that she found her community.
"It was the first time I met anyone with my specific condition. I found people I could intimately relate to,"
she says.
"I was so inspired when I got back to Orlando that I wrote a song called 'Unlimbted.' Being at that camp was the beginning of accepting myself — I realized being different was a good thing."
On location in Tulum, Mexico Marsha poses stunningly for
Ana Dias
' camera.
"When Jameela Jamil asked me to be the April 2020 Playmate, I couldn't help crying,"
she says.
"Never in a million years did I think I would be a Playmate. The world is becoming more inclusive, and it's inspiring to know that I can help move the needle."