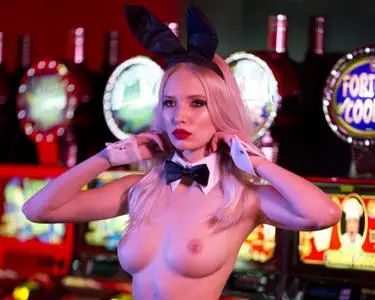 Monica Wasp - Ana Dias Photoshoot 2018
19 jpg | up to 1956*2739 | 13.7 MB
International Playmate,
Monica Wasp
will give you all the feels. With platinum blonde hair, striking dark blue eyes and just about the sultriest gaze around, she's sure to knock you off your feet at just one glance. Coming to Playboy from Romania, Monica is an artist—both visual and creative. A full-time model and artist, you can usually find this gorgeous babe drawing — mostly erotic inspired art — or posing nude for cameras all over the globe. In fact, her most recent gig is Miss May 2018 in Playboy Portugal, where she posed as a sexy, gambling Bunny. On the set of a casino in Lisbon, Portugal, with the photographer,
Ana Dias
, Monica is dressed in her Bunny best, ready to make some bets with all her adoring fans.
"One of the things that gave me the most pleasure as I grew up was to buy the Playboys of Anna Nicole Smith and Pamela Anderson,"
she reminisces.
"I always wanted to be a Bunny."
When she's not modeling or making art, you can usually find this gorgeous blonde shopping — she loves fashion — looking for inspiration, reading, and spending time with friends.
"I search the internet for ideas for my wants and projects,"
she tells us.
"And I can read as much as I read in my teenage years."