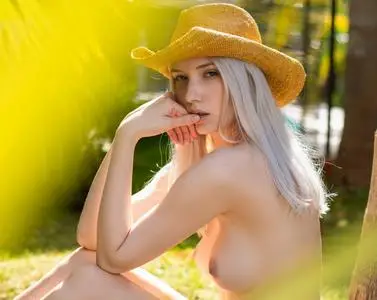 Monica Wasp - Ana Dias Photoshoot 2019
36 jpg | 1280*1920 | 16 MB
Back for another breathtaking pictorial is the stunning International model,
Monica Wasp
. On a sunny, remote location, the gorgeous and sultry Monica enjoys the hot air and palm trees as the photographer,
Ana Dias
captures all her natural beauty.
"I like seeing myself naked,"
she tells us of when she feels sexiest.
"Or naked with shoes on."
When it comes to her figure, Monica has a favorite part.
"I love my tits,"
she says.
"I like the shape and the color of my nipples."
A creative soul, Monica is an artist in many mediums.
"What do I consider my special talent? I draw, paint and sculpt,"
she tells us of her other passions.
"I am also qualified in make-up artistry."
When it comes to dating, she looks for someone genuine.
"I have stopped dating,"
she says.
"But I like polite, down to earth people. My biggest turn-on is a sparkling personality and high self-esteem. Nothing can beat that, to be honest."