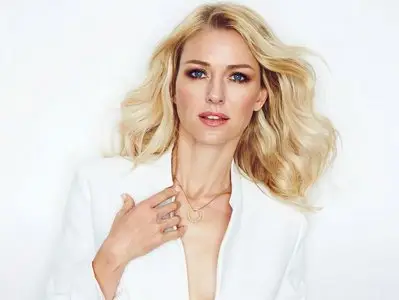 Naomi Watts - Max Abadian Photoshoot 2014 for InStyle
10 jpg | up to 5184*3456 | 10.54 Mb
Naomi Ellen Watts
(born 28 September 1968) is a British-Australian actress who began her career in Australian television, where she appeared in series such as
Hey Dad..!
(1990),
Brides of Christ
(1991),
E Street
(1991) and
Home and Away
(1991). Her film debut was the 1986 drama
For Love Alone
. Her following portrayals included roles in B-class movies, such as the 1996 horror film
Children of the Corn IV: The Gathering
, as well as roles in television and independent films.
Watts gained critical acclaim following her work in
David Lynch
's 2001 psychological thriller
Mulholland Drive
. The next year, she received public recognition for her participation in the box office hit horror film
The Ring
. In 2004, she received nominations for the Academy Award for Best Actress as well as for the Screen Actors Guild Award for Outstanding Performance by a Female Actor in a Leading Role for her portrayal of Cristina Peck in
Alejandro González Iñárritu
's 2003 drama
21 Grams
, alongside
Sean Penn
. Other film roles include the 2005 remake of
King Kong
, the 2006 remake of
The Painted Veil
, the 2007 thriller
Eastern Promises
, and the 2009 thriller
The International
. In 2010, Watts portrayed Valerie Plame Wilson, opposite
Sean Penn
as Joe Wilson, in
Fair Game
, the 2012 drama film
The Impossible
.
In 2002, she was included in People Magazine's 50 Most Beautiful People. In 2006, Watts became a goodwill ambassador for Joint United Nations Programme on HIV/AIDS, which helps to raise awareness of AIDS-related issues. She has participated in several fundraisers for the cause, and she is presented as an inaugural member of AIDS Red Ribbon Awards.