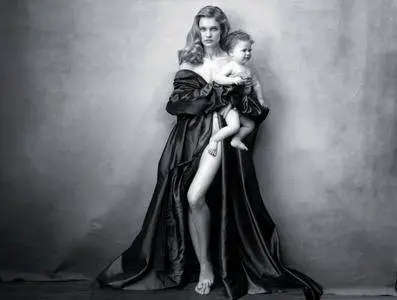 Annie Leibovitz Portraits for Pirelli Calendar 2016
13 jpg | up to 1536*2048 | 5.53 MB
The Pirelli Calendar—an annual limited edition "art item" released by the Italian tire company—looks a little different this year. Usually filled with photographs of nude or barely clothed models, this year's edition, shot by photographer
Annie Leibovitz
, features 12 studio portraits of women renowned for their work in diverse fields—including comedy, sports, philanthropy, and art. Another notable departure from the Pirelli norm is that Leibovitz is the only woman—aside from husband-and-wife duo Inez and Vinoodh, in 2007—to have photographed the calendar in over 25 years.
Of all the accomplished women featured—
Serena Williams; Yao Chen; Patti Smith; Amy Schumer; Yoko Ono
; investor
Mellody Hobson; Fran Lebowitz; Agnes Gund
and her granddaughter; director
Ava DuVernay
; artist
Shirin Neshat
; producer
Kathleen Kennedy
; blogger and actress
Tavi Gevinson
; model
Natalia Vodianova
and one of her young children—only Williams and Schumer are shown in their underwear.
In the December photo (perfect for the year's grand finale), Schumer poses casually in lingerie and heels, holding a coffee cup with a lipstick stain and giving the camera an irreverent look that says, "Um, can I help you?" During a press conference, Leibovitz said,
"The idea was that she was the only one who had not got the memo about wearing clothes."
Schumer posted the photo on her Instagram, with the caption
"Beautiful, gross, strong, thin, fat, pretty, ugly, sexy, disgusting, flawless, woman. Thank you Annie Leibovitz!"