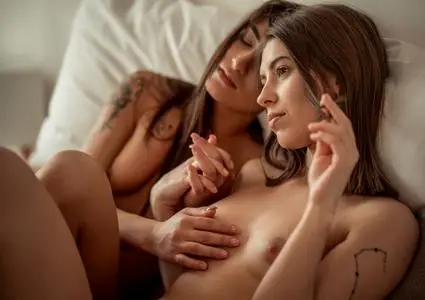 Sophia Lauren & Avery - David Merenyi Photoshoot 2020
28 jpg | 1826*2739 | 19.29 MB
Meet
Avery
, a talented model, teacher, and artist coming to us from Russia. We first caught sight of Avery through her photographer,
David Merenyi
, and knew she'd be a great fit. Kind, adventurous, and creative are just a few ways we'd describe her.
"Everything I want to say I am showing,"
she says of how she communicates through her work on camera.
"How do I feel about posing nude? I feel pleasure!"
You can usually find Avery moving her body when she's not working as a model, English teacher, or a tattoo artist.
"In my spare time, I like doing yoga and dancing,"
she says.
Self-described as a wild spirit,
Sophia Lauren
is fiercely independent. "I am from Sardinia, Italy, and I left my country when I was 15 years old," she tells us. "I've lived alone since 2016, and I just got my diploma as a social worker." Modeling internationally for two years now, Sophia has been featured in Playboy around the world.