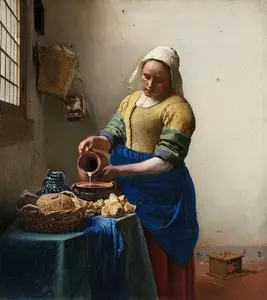 The Art of Johannes Vermeer
49 jpg | up to 4687*5512 | 268 MB
Johannes, Jan
or
Johan Vermeer
(1632 – December 1675) was a Dutch painter who specialized in domestic interior scenes of middle-class life. Vermeer was a moderately successful provincial genre painter in his lifetime. He seems never to have been particularly wealthy, leaving his wife and children in debt at his death, perhaps because he produced relatively few paintings.
Vermeer worked slowly and with great care, using bright colours and sometimes expensive pigments, with a preference for lapis lazuli and Indian yellow. He is particularly renowned for his masterly treatment and use of light in his work.
Vermeer painted mostly domestic interior scenes. "Almost all his paintings are apparently set in two smallish rooms in his house in Delft; they show the same furniture and decorations in various arrangements and they often portray the same people, mostly women."
Recognized during his lifetime in Delft and The Hague, his modest celebrity gave way to obscurity after his death; he was barely mentioned in Arnold Houbraken's major source book on 17th-century Dutch painting (Grand Theatre of Dutch Painters and Women Artists), and was thus omitted from subsequent surveys of Dutch art for nearly two centuries. In the 19th century, Vermeer was rediscovered by
Gustav Friedrich Waagen
and
Théophile Thoré-Bürger
, who published an essay attributing sixty-six pictures to him, although only thirty-four paintings are universally attributed to him today. Since that time, Vermeer's reputation has grown, and he is now acknowledged as one of the greatest painters of the Dutch Golden Age.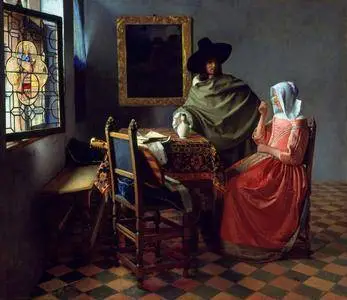 The Wine Glass
(also
The Glass of Wine
or
Lady and Gentleman Drinking Wine
, Dutch:
Het glas wijn
) is a 1660 painting by
Johannes Vermeer
now in the Gemäldegalerie, Berlin. It portrays a seated woman and a standing man drinking in an interior setting. The work contains the conventions of genre painting of the Delft School developed by
Pieter de Hooch
in the late 1650s. It contains figures situated in a brightly lit and spacious interior, while its architectural space is highly defined. The figures are set in the middle ground, rather than positioned in the foreground.