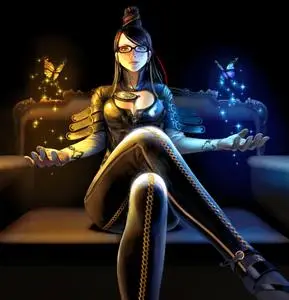 Bayonetta Concept Arts & Wallpapers
22 jpg | up to 7000*4961 | 25.19 MB
Bayonetta
is an action-adventure hack and slash video game developed by PlatinumGames and published by Sega. The game was originally released for Xbox 360 and PlayStation 3 in Japan in October 2009, and in North America and Europe in January 2010. The game was later released on the Wii U alongside its sequel,
Bayonetta 2
, releasing in September 2014 in Japan and worldwide the following month - the two games were later released worldwide on the Nintendo Switch in February 2018. An enhanced port for Microsoft Windows was released in April 2017 with 4K support. A remastered version of
Bayonetta
as well as another PlatinumGames title,
Vanquish
, was released for PlayStation 4 and Xbox One on February 18, 2020, as part of a
Bayonetta & Vanquish
10th Anniversary Bundle compilation.
Bayonetta takes place in Vigrid, a fictional city in Europe. The game stars the eponymous character, a witch who is capable of shapeshifting and using various firearms. She possesses magical attacks, and she can use her hair to summon demons to dispatch her foes. The game features a rating system, which gives players a grade based on their performance, and a combat system that is similar to the
Devil May Cry
series, also created by Bayonetta creator
Hideki Kamiya
.
Development of the game was started in January 2007, with
Hideki Kamiya
being the game's director. According to Kamiya, the game was completely original, though he drew some inspirations from Scandinavian mythology, and played
Devil May Cry 4
for reference. The game's theme is "sexiness" and "partial nudity", and that the characters were designed to be "fashionable". Kamiya and artist
Mari Shimazaki
spent more than a year to create Bayonetta's design. Several demos were released for the game prior to its launch. Bayonetta was the third project released by PlatinumGames, which was founded by former Clover Studio employees. Upon release, the game received generally positive reviews. The game was praised for its combat, presentation and soundtrack, but drew criticism for its story and quick time events. The game was nominated for and won several end-of-the-year accolades, and had sold over a million units worldwide by 2010. An anime film adaptation of the game by Gonzo, titled
Bayonetta: Bloody Fate
, was released in Japan in November 2013. A third game,
Bayonetta 3
, is in development for the Switch.