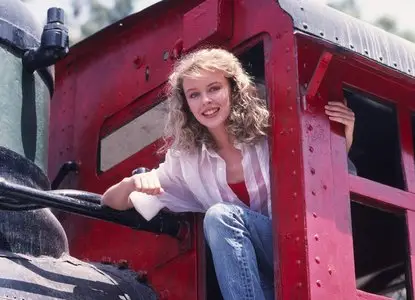 Kylie Minogue - Chris Walter Photoshoot 1988
4 jpg | up to 3000*2388 | 11.15 Mb
Kylie Ann Minogue
, (born 28 May 1968), is an Australian pop singer, songwriter, and actress. After beginning her career as a child actress on Australian television, she achieved recognition through her role in the television soap opera Neighbours, before commencing her career as a recording artist in 1987. Her first single, "Locomotion", spent seven weeks at number one on the Australian singles chart and became the highest selling single of the decade. This led to a contract with songwriters and producers Stock, Aitken & Waterman. Her debut album, Kylie (1988), and the single "I Should Be So Lucky", each reached number one in the United Kingdom, and over the next two years, her first 13 singles reached the British top ten. Her debut film, The Delinquents (1989) was a box-office hit in Australia and the UK despite negative reviews.
Minogue has achieved worldwide record sales of more than 68 million, and has received notable music awards, including multiple ARIA and Brit Awards and a Grammy Award. She has mounted several successful concert tours and received a Mo Award for "Australian Entertainer of the Year" for her live performances. She was awarded the Order of the British Empire "for services to music", and an Ordre des Arts et des Lettres in 2008.
She is the older sister of
Dannii Minogue
.