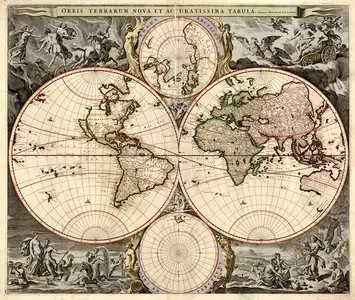 Heavily decorated 18th Century maps of the world
6 jpg | up to 15472*12638 | SUHQ | 201.4 Mb
By the eighteenth century, atlas making had become a serious scientific, economic, military, and political process. The leading cartographic nations at this time, France and England, were also the leading world powers and their atlases of the world reflected their universal interests. The British and French atlases contained country and regional maps of great detail, and they set a very high standard for atlas making. In the late eighteenth century, the events in America involving the newly minted United States were of great interest, even though the cartographers did not have access to new surveys or much first hand information. They did have access to the best pre-Revolutionary surveys, and they tried to keep their maps current, especially for political information.