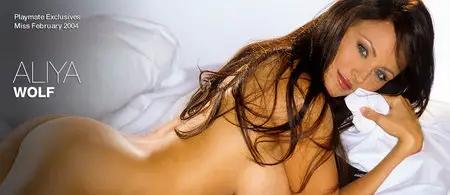 Refresh: Aliya Wolf - Playboy Playmate, Miss February 2004
20 JPG | 1067*1600 | 14.51 MB
Aliya Wolf (born January 17, 1975 in Stephenville, Texas) is an American model who was Playboy magazine's Playmate of the Month for February 2004. She is a former Miss Houston and Star Search spokesmodel. Wolf tried out for Playboy scouts for the 50th Anniversary Playmate Hunt. Appeared in its pictorial in the December 2003 issue.
Preceded by Colleen Shannon
Succeeded by
Sandra Hubby
Aliya Wolf Bio
Born: January 17, 1975 (age 36) Stephenville, Texas
Measurements Bust: 34 Waist: 24 Hips: 35
Height 5 ft 7 in (1.70 m)
Weight 120 lb (54 kg; 8.6 st)