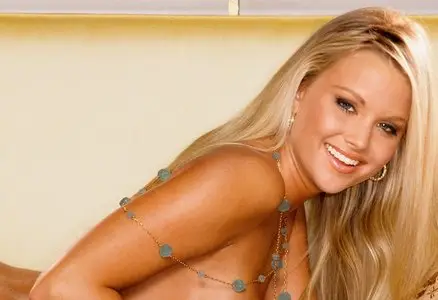 Refresh: Kara Monaco - Playmate of the Year 2006, Miss June 2005
20 jpg | 1067*1600 | 12,2 Mb
Kara Monaco (born February 26, 1983 in Lakeland, Florida) is an American model. She was chosen as Playmate of the Month by Playboy magazine in June, 2005. She appeared on the cover of the June 2006 issue of Playboy as the 2006 Playmate of the Year.
Monaco has appeared in episodes of E! reality TV series, The Girls Next Door. She also appeared in a blue bikini in the 2006 Playmates at Play Playmate swimsuit calendar, shot in Las Vegas. Monaco appeared in an episode of reality show Keeping Up with the Kardashians.
She appeared as the Playmate of the Year on the December 20, 2006 episode of Identity.
Monaco also starred in the 2006 music video, "Stayin' Home Again" by Willie Wisely.
Kara Monaco Bio
Playboy centerfold appearance June 2005
Preceded by Jamie Westenhiser
Succeeded by Qiana Chase
Playmate of the Year 2006
Preceded by Tiffany Fallon
Succeeded by
Sara Jean Underwood
Personal details
Born February 26, 1983 (1983-02-26) (age 28) Lakeland, Florida
Measurements Bust: 34"C
Waist: 24"
Hips: 34"
Height 5 ft 6 in (1.68 m)
Weight 110 lb (50 kg; 7.9 st)