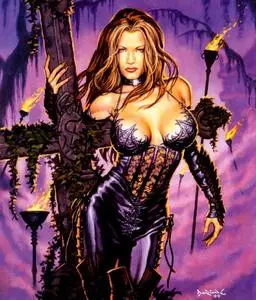 The Art of Dorian Cleavenger
416 jpg | up to 2210*1499 | 121 MB
Dorian Cleavenger
is world-renowned for having introduced a new aspect to art: an aspect that this multi-faceted artist terms "Pseudo-Realism". Early in Dorian's career he did free-lance work for Disney, U.S. Steel and other large corporations, but he ached to strike out on his own and produce the images that were burning to be released from his conceptually creative mind. Starting with fully painted covers and illustrated stories for comic books, he again found a restriction in that medium by it requiring depiction of the characters others designed rather than allowing him to be fully creative. Within a short time publishers and collectors from throughout the world were offering him commissions and purchasing his unique and original paintings.
Several books were published on Dorian's art: first in Germany where the publisher enjoyed record sales by doing a series of books exclusively featuring his paintings followed by publishers with articles in South Africa, China, Russia, Belgium and the United States as well as collectible figures based on his paintings by Yamato of Japan and numerous other published works. Sales of original paintings and reproductions of his art have spread throughout the world. He has currently created two paintings depicting his visions of characters at the personal request of Star Wars creator
George Lucas
for a new book on the art of Star Wars tentatively titled "Star Wars: Visions 2010" due to be released soon. Dorian's self-produced DVD
"The Art of PainT"
, a tutorial available through this website explaining his acrylic painting techniques, has been met with expressions of acclaim and gratitude from other artists worldwide. The rapid drying time of his favorite medium, acrylics, has allowed him to create paintings in record time, unlike oils that he found inhibiting by requiring lengthy drying time.