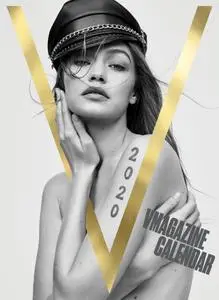 V Magazine Calendar 2020
13 jpg | up to 1500*2048 | 3.22 MB
V Magazine
is teaming up with
Guess
to launch a 2020 calendar that's stacked with some of the world's hottest supermodels.
A topless
Gigi Hadid
adorns the cover and first page in a Breton hat, followed by her supermodel sister
Bella Hadid
, who covers up with nothing but a denim jacket. Former Maxim cover models
Hailey Bieber, Hannah Ferguson and Lily Aldridge
also appear alongside stunners like
Project Runway
host
Karlie Kloss, Grace Elizabeth, Carolyn Murphy, Alek Wek, Megan Roche, Ruth Bell and Yasmin Wijnaldum
.
Fashion photographer
Zoey Grossman
captured the jaw-dropping black and white images for the 20th anniversary tribute, each of which features a scantily-clad look that's as alluring as the last.