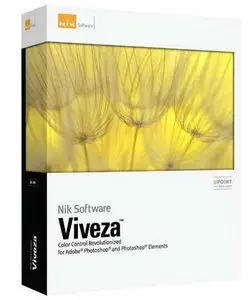 Nik Software Viveza v2.001 for Adobe Photoshop | 13.25 MB
Nik Software Viveza 2
- the most powerful tool to selectively control color and light in your photos. Creating a great photo involves the development of color and light. Power from the patented U Nik Software's Point ®, a new Viveza 2 allows photographers of any skill level to quickly improve their image, using innovative tools, designed for speed and efficiency. From the exact selective improvement using U Point Powered Control points for changes that improve the entire image, Viveza 2 allows you to spend more time shooting photographs and forever change the way you edit your photos.
Features:
Technology U Point, surprisingly accurate and the most unique and powerful image processing technology available today, U Point powered Control allows precise control of accessories, which are applied without the need for difficult choices, or layer masks.
Checkpoints - Easy management of color, light and structure of U Point Powered checkpoint. Easy-to-use sliders let you quickly adjust brightness, contrast, saturation, composition, shadows, red, green, blue, hue, and warmth that gives you full control over your image. Now includes several new components for even greater power.
NEW: Global picture settings - With global adjustments in Photoshop Lightroom, or before using Viveza for selective control? Now go straight to the Viveza and apply any color of light or image of the structure capacity scale. Even adjust the levels & curves.
NEW: The global picture settings - now go straight to the Viveza and apply any color, light, or strengthening the entire image of the structure with the possibility to specify any global restructuring, selectively using control points. Also includes the levels & curves for even more control over the contrast and tone.
NEW: Structure Adjustment - increase or decrease in fine details for the final appearance.
NEW: Shadow Adjustments - Never loose parts in the shadows again. It is easy to recover details hidden in the shadows selectively with the control point or use the image scale.
Save time interface optimized for speed - U Point technology, coupled with an effective interface and dozens of keys to zoom, push and defeat, saving time in the workflow and quickly gets you back to shooting.
NEW: Interactive Help System - informative, lesson Reference system will help you and work with Viveza 2 in the blink of an eye.
Smart Filter Support
- Viveza 2 is compatible with Adobe Photoshop Smart's Filter function that allows you to fine-tune enhancements even after they have been applied, without adding additional layers.
Selective Brush Tool - Selective Brush Tool allows you to brush any light and color changes to an image using the tools of Photoshop's Brush. Layers and masks are created automatically, so you can quickly and easily apply any filter selectively.
Multi-Image Support
- Photographers can maintain consistency and speed workflow when working with Viveza 2 in Adobe Photoshop Lightroom and Apple Aperture. When you open more than one image, Viveza 2 show "Previous and Next buttons for easy copying and pasting between images.
New in Viveza 2:
● New tools to work with levels and curves
● Functions restore shadow
● Improved management of small details
● Improved accuracy of the allocation
● Changes in the interface
● Added support for Smart Filter and Selective Brush tool in Photoshop
● Added support for 64-bit versions of Windows
● Now you can work with multiple images simultaneously in Lightroom and Aperture.
Operating system: Windows XP / Vista / 7.
Language: English
DOWNLOAD:
HOTFILE | MEGAUPLOAD
NO MIRROR PLEASE!!!
MY BLOG:
http://avaxhome.ws/blogs/presoft