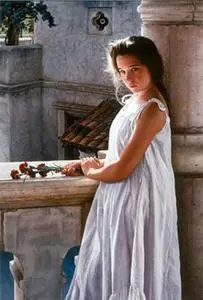 First Flower
Duffy Sheridan
Small set of pics | 20 Images | 500*700 pix Avg | 2 MB | RE-Post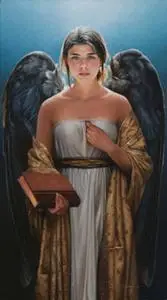 Duffy Sheridan
is known for his ultra realistic, contemplative paintings of women. His continual strive for perfection is evident in his masterful technique and attention to detail. His goal, beyond making the painting look as lifelike as possible, is to celebrate the human spirit.
"Rather than render a narrative, I attempt to capture and portray a specific quality that is beyond the familiar…it's spiritual".
His goal is to stir emotional reactions to his oil paintings by conveying a sense of peace and innocence. His classical painting style is inspired by one of his favorite artists, John Singer Sargent.
After 30 years of living in remote locations and painting in relative obscurity, Sheridan in recent years is grateful that his oil paintings are being appreciated. He takes pleasure in accomplishing what he feels is his role as an artist, "to elevate the human spirit".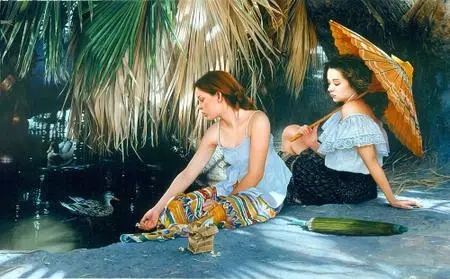 Arizona painter Duffy Sheridan's figures are photographic with an illustrator's concern for surface appearance and tightly-blended, minute detail rather than the traditional substance of fine art form. The artist is self-taught, having worked, as a youth, only with his father, who was interested in art. His Baha'i faith plays a significant role in his philosophy of art.
A traveler to unusual locales, Sheridan has lived in places as diverse as the Falkland Islands off the Argentine coast, American Samoa, Sedona, Arizona and finally south-central Arizona. He painted in all of these locations, including remembrances of British life in the Falklands, and works for the Catholic Diocese in Pago Pago.
He is primarily interested in the female figure and the effects of the designs on the various garments they wear. He speaks of the archetypal nature of "woman" as symbol and fact of the essence of life, but does not reflect it in his paintings.
Password if needed:
www.AvaxHome.ru
more galleries at
here
or visit my
blog
c u ;-)