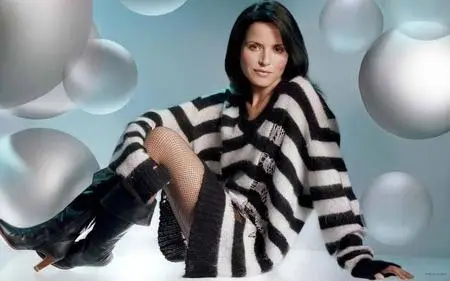 Andrea Corr - 3 JPG - 1200x1920 - 1,5 Mb
Andrea Jane Corr, MBE (born May 17, 1974) is the lead singer for the Irish pop-rock band The Corrs and an actress. Although her voice is her greatest instrument, she also plays the tin whistle for the band. The Corr siblings were awarded honorary MBEs in 2005 by Queen Elizabeth II in recognition of their musical talents and their charitable work which raised money for Freeman Hospital in Newcastle, victims of the Omagh Bombing, and other charities.
Biography
She was born in Dundalk, County Louth, Ireland, the youngest daughter of Jean and Gerry Corr, two musicians. She and her elder siblings, sisters Caroline (b. 1973) and Sharon Corr (b. 1970) and brother Jim (b. 1964), formed The Corrs to audition for the 1991 film The Commitments. Although all four appeared in the film, Andrea was the only one to be given a speaking part. But several years later, in another fleeting appearance in a major film, she was wanted strictly for a singing role - it was the musical Evita, in which she played Juan Peron's mistress, who is abruptly displaced by Madonna's title character.
In 2002 a chance for Andrea to launch a more extensive acting career appeared to open up as she was strongly rumoured to have been offered the role of Lara in a fresh British television production of Boris Pasternak's classic novel Doctor Zhivago. The character was however ultimately played by the then little known Keira Knightley.
As the youngest member of the band, Andrea joined directly from school.
As of March 2006 The Corrs are taking a sabbatical from music as Jim, Caroline, and Sharon all have families of their own and need the respite to spend more time with them. In November of 2006, the band released a second greatest hits compilation, titled "Dreams: The Ultimate Corrs Collection".
You can see more quality graphics on my Blog