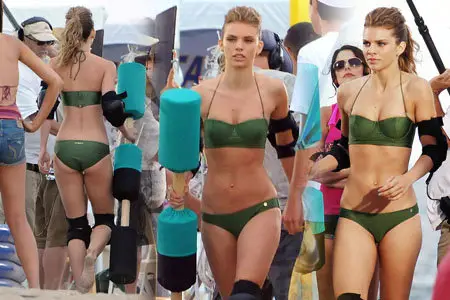 Anna Lynne McCord - bikini on set of 90210 in LA August 8, 2011
47 JPG | up to 2400x3600 | 31,4 mb
American actress. Known for playing a range of vixen-type roles
AnnaLynne McCord (born July 16, 1987) is an American actress. Known for playing a range of vixen-type roles, McCord first gained prominence in 2007 as the scheming Eden Lord on the FX television series Nip/Tuck, and as the pampered Loren Wakefield on the MyNetworkTV telenovela American Heiress. In film, she has appeared in the action feature Transporter 2, as well as the thriller Day of the Dead.
In 2008, she was the second actor to be cast in the CW series 90210, portraying antiheroine Naomi Clark. Initially, the part of Clark was conceived as a supporting role. By the end of the first season, however, various media outlets had begun referring to McCord as the series' lead.
McCord portrayed Eden Lord, a character in the fifth season of the FX series Nip/Tuck. She reprises her role as a guest star in several season 6 episodes. In 2008, she joined the debuting series 90210 as Naomi Clark, a part which media outlets have since referred to as the central role. In 2009, McCord was the recipient of the Hollywood Life Young Hollywood Superstar of Tomorrow award. She was also nominated for a Teen Choice Award for her portrayal of Naomi. McCord was being considered for the role of Heidi in New Moon, the sequel to the 2008 film Twilight, according to E! Online. However, she did not get the role. According to McCord herself she turned the part down because she was "in need of some R&R." The role went to Noot Seear.