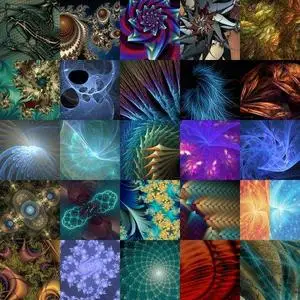 Blatte's Backgrounds - 348 fractal wallpapers
1280x1024 24-bit JPG | 205 Mb
Beautiful, highly detailed wallpapers
Blatte's site (
http://exoteric.roach.org/bg/
) went down before I had a chance to visit it, but I understand that all his wallpapers were free to download for personal use as long as you obtained a free password from his site. The sizes of the wallpapers available there ranged up to ultra high res (2560x1600).
My thanks to
bfuploader
for introducing me to Blatte by posting pack 5 here:
http://www.avaxhome.ws/graphics/wallpapers/Fractal_artalan_Pack_5.html
I found the remaining packs of Blatte's fractal wallpapers of this size on the web listed as "fractal artalan", posted by a Turkish source. I suspect "artalan" means wallpaper in Turkish, so retained the word in the RAR archives.
The 5 packs contain 60 + 60 + 60 + 84 + 84 = 348 wallpapers and have been repacked into 100 + 100 + 14 Mb RAR archives (2% recovery record) to make d/l easier.
If Blatte's site reappears, please visit and donate.
Enjoy.
Download
(no password)
Part 1
Part 2
Part 3
Non-RS mirrors welcome.
PS "Blatte" is French for "cockroach", hence the name of his site!