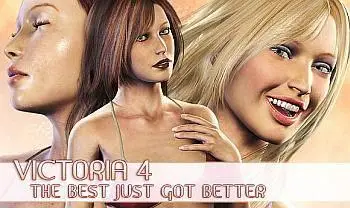 DAZ3D Victoria 4 | Win32 | 5Mb
Optimized for realism, the base mesh for Victoria has been re-engineered from the ground up to provide the optimal combination of realism and versatility.
Using new 3D digital laser scan data of live human models as reference, the 4th generation Millennium Figures supply more natural and true-to-life body shapes and proportions. The hands, feet, eyes and ears of these new Millennium Figures also have recreated from scratch and reflect the latest innovations, adding unbelievable realism.
Features:
* Complete Mesh Redesign
* Increased Skin Map Resolution
* Revolutionary Joint Rigging
* Unimesh Sub-D Cage
* Accurate Musculature
* Separate Fingernail and Toenail Geometry
* Innovative Eyelash Geometry
* Jointed Tongue, Jaw & Teeth
* Full Body morph poses
* Joint Smoothing Morphs
* Enhanced Eye Control
* Toe pose Morphs
* Planned Asymmetry
* Full Facial Expressions
* Scalable Body Parts
Here is a
small V4 animation
Download:
http://www.ftp2share.com/file/5019/ps_pe069.rar.html
NEW:
Here's an untested no-installer version. (3.7Mb)
http://www.ftp2share.com/file/5080/Vic4noinst.rar.html