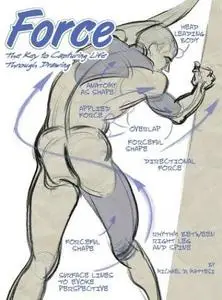 Force: The Key to Capturing Life Through Drawing
Publisher: iUniverse Star (June 1, 2004) | ISBN: 0595317588 | Author: Mike Mattesi | PDF | 37,79 Mb Book + 367 Mb Video | 192 pages
Prepare to experience a brand new thought process on the drawing of life and the expression of energy. This important concept is also the least talked about subject in figure drawing classes today. Artist Michael Mattesi is your guide on an exciting and provocative journey through multiple methods of thinking using easy to understand critiques of dynamic drawings. Learn to approach drawing through Michael's groundbreaking theory about force and its relationship to:
Rhythm
Form
Shape
Clothing
Reportage
Animals
Animate objects are always full of Force. No matter how still a body may seem, there are always forces to comprehend and address. Participate in Michael's web forums and online instruction through critiques and video examples at
www.drawingforce.com
.
Download link for the book:
http://rapidshare.de/files/36543166/FORCE_-_The_Key_to_Capturing_Life_Through_Drawing.pdf
Download links for nearly 400 MB of Video accompanying the book!!!
http://rapidshare.de/files/36544527/drawingforce.com_-_VIDEOS___BOOK.part1.rar
http://rapidshare.de/files/36547004/drawingforce.com_-_VIDEOS___BOOK.part2.rar
http://rapidshare.de/files/36545833/drawingforce.com_-_VIDEOS___BOOK.part3.rar
http://rapidshare.de/files/36545528/drawingforce.com_-_VIDEOS___BOOK.part4.rar
Reviews on Amazon
Brings Art to Life and Life to Art, July 17, 2005
Reviewer: Steven Larsen (Philadelphia, USA)
The focus here is primarily on the use of assymetry through straight and curved lines to show the direction of force in the body. This is covered in other books, but not this extent. Other methods treat this material as secondary to contour and gesture, here it is the focus of a drawing. The book is filled with excellent ,forceful examples of using rhythm, shape, and line to bring out the life in a subject.
There is one weakness here. The author does cover many things beginners need to know, but goes over them very quickly. While a beginner could learn from this book, perhaps a little experience with the basics would be helpful before coming to this book.
The author is an animator and besides appealing to other animators, his clean style would appeal to those interested in sketching or reportage, a subject which the author devotes a whole chapter to.
AWESOME! The artwork is great!, December 16, 2003
Reviewer: skunktrain (So. California, USA) - See all my reviews
This book is full of exciting and animated figure drawing. Just thumbing through it and admiring all the fabulous artwork is a treat. However, the lessons about figure drawing are also worthwhile.