Features:
* XHTML Valid
Like all of our templates, this one also validates to XHTML 1.0 transitional standards!
* CSS Valid
Not only have we ordered and commented the CSS file for you, but it also validates to W3C standards.
* Text Resizer
For those who wish to provide acessibility, Element allows quick text resizing.
* Lightbox Ready (optional)
Everyone loves Lightbox..well almost everyone anyway, so we've included the necessary files for you to turn it on/off for fancy faded image showcasing.
* Dynamic Layout Switcher
Our newly optimized styleswitcher script is faster than ever and provides the option to enable/disable Lightbox image viewer script.
* SEO Optimized
Inserting graphics into your site shouldn't cost you valuable SEO. Element takes care of this. With advanced CSS image replacement, you can style your text links and have them dynamically replaced by your own images or icons. Google will love you for this. We've also included the site name and logo as a linked H1 tag at the top of your page for even more SEO.
* Native Typography
Of course a Joomla template is expected to have the basic styles, but we've gone one step above that and included all your pre-styled H1, H2, H3 and blockquotes. This is to ensure your transition form another template will make your content feel right at home.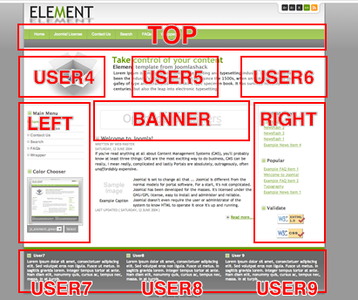 Download here:
http://www.ftp2share.com/file/7750/Element_Dev_Pack.rar.html
Enjoy.