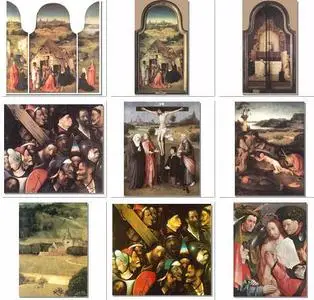 Hieronymus Bosch - 41 pictures - JPG - from 700 to 1600 pix - 6,6 Mb
Hieronymus Bosch, (latinized; also Jeroen Bosch , Jerome Bosch or his real but widely unknown name Joen van Aken) (c. 1450 – August, 1516) was a prolific Dutch painter of the 15th and 16th centuries. Many of his works depict sin and human moral failings. Bosch used images of demons, half-human animals and machines to evoke fear and confusion to portray the evil of man. The works contain complex, highly original, imaginative, and dense use of symbolic figures and iconography, some of which was obscure even in his own time. He is said to have been an inspiration for the surrealist movement in the 20th century.
His true name was Jheronimus (or Jeroen) van Aken (meaning "from Aachen"). He signed some of his paintings with Bosch (pronounced as Boss in Dutch), derived from his birthplace 's-Hertogenbosch. In Spanish he is often called El Bosco.
Born to a family of Dutch and German painters, he spent most of his life in 's-Hertogenbosch, a flourishing city in fifteenth century Brabant, in the south of the present-day Netherlands. In 1463, some 4000 houses in the town were destroyed by a catastrophic fire, which the then (approximately) 13-year-old Bosch may have witnessed. This might have been a contributing factor to his obsession with Hell. He became a popular painter and even received commissions from abroad. In 1488 he joined the Brotherhood of Our Lady, an arch-conservative religious group of some 40 influential citizens of 's-Hertogenbosch and some 7000 'outer-members' from all over Europe.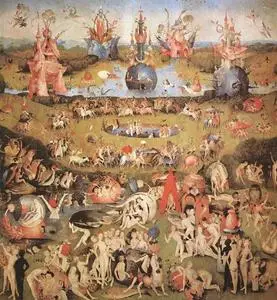 Download from Ftp2Share.com