Alberto Vargas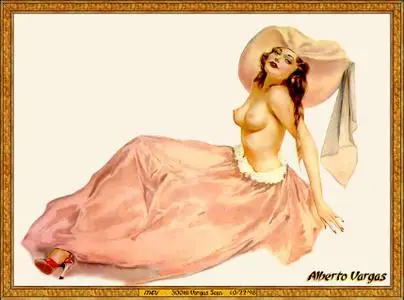 О Xудожнике
Альберто Варгас, возможно, самый известный и именитый из всех мастеров пин-апа. Родился в Ареквиппе, Перу, в 1896 году, в семье уважаемого фотографа-портретиста Макса Варгаса. Его отец посопособствовал тому, чтобы Альберто получил место в Студии Жюльен в Швейцарии в 1915 году. Однако, всеоре Варгас решил, что Европа в огне Первой Мировой войны - не самое приятное место и через год переехал в Нью-Йорк. После двух удачных контрактов (создание рисунков для Зигфилд Фолиис в 20х и рисование серии Голливудских звезд в 30х) Варгас был нанят обеспечивать художественное наполнение для только что созданного журнала Эсквайр в 1940 году.
Варгас рисовал неплохие вещи и в 1970, но все же его лучшие произведения были созданы в период с 1940 по 1947 годы. Это было время девочки "Варга" ("Varga Girl"), рисунков знаменитостей на разворотах и календарях, в основном выпускаемых журналом Эсквайр.
About Illustrator
Alberto Vargas (1896-1982) was a noted painter of pin-up girls and erotica. Born in Peru, Joaquin Alberto Vargas y Chavez came to the US in 1916. He is perhaps most famous for his 16 years illustrating for Playboy magazine, during the 1960s and 70s.
His pictures would often portray, elegantly dressed, semi-nude to nude women of perfect proportionalities; large breasts, curved waists, trimmed pubic hair, etc. Vargas's artistic trait would be slender fingers and toes, often nails being painted red.
Info
size – 24.79 MB
quantity – 416
size – all sorts of
Download