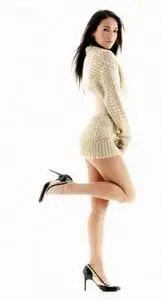 Megan Denise Fox
25 JPG | 1800 x 2400 | 15 Mb
Megan Denise Fox (born May 16, 1986) is an American actress and model, best known for performances in the film Confessions of a Teenage Drama Queen and the television program Hope & Faith. Fox was born in Memphis, Tennessee. She began her training in drama and dance at the age of five, and at the age of ten moved to Florida, where she continued her training and finished school. She began acting and modeling at the age of thirteen after winning several awards at the 1999 American Modeling and Talent Convention in Hilton Head Island, South Carolina. Fox made her film debut in the 2001 film Holiday in the Sun as the spoiled heiress and rival of Ashley Olsen.
Megan Fox will be the female lead in the upcoming film Transformers set to be directed by Michael Bay. She will be playing the love interest of Shia LaBeouf's character Sam "Spike" Witwicky. As of November 2006 she is engaged to Brian Austin Green.
Fox also appeared in a five page spread for the November 2005 issue of the popular men's magazine FHM. She was ranked number sixty-eight on the FHM 100 Sexiest Women of 2006.