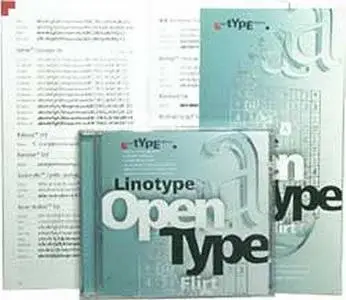 Flirt Opentype Font CD
1,392 Fonts | Opentype | 72 MB
OpenType offers type users unprecedented power and flexibility. With OpenType, multiple platforms (Mac and PC) and multiple fonts (small caps, expert, lining figures) can exist in a single font file. Ligature, swash, and alternate characters can be applied automatically. Each font can hold thousands of extra characters, vastly enhancing your typography toolset.
A great way to experience OpenType for the first time is to upgrade familiar fonts to the format. That's why Linotype offers OpenType Flirt, a CD of 1,392 OpenType fonts along with their equivalent legacy versions in Mac PS, PC PS, and PC TT formats. With Flirt, Linotype brings some of their most successful typefaces to OpenType. It's a great option for design firms who need multiple formats and multiple users. Choose between a 10-user ($3,999) or 20-user ($6,999) license and supply your office with a versatile library from which you'll draw for years to come.