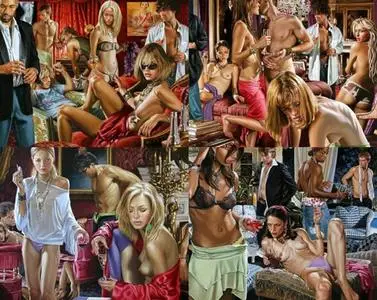 Two Sets (16M + 13MB)
Image Quality is very high and varies from 800 x 600 to 1000 x 700
Terry Rodgers
Terry Rodgers is an internationally recognized artist who has worked and lived in Massachusetts, Washington DC, and Ohio. He has had solo exhibitions in Amsterdam and Milan, and participated in group shows around the world. In the United States he has had solo exhibitions in New York, Los Angeles, Atlanta, and Chicago.
Rodgers is an accomplished painter with a striking mastery of light and transitions as is evidenced by his current body of work. This work focuses on the life of upper middle class Americans, seemingly adrift in affluence and casualness, unsatisfied and disconnected. Nonetheless, Rodgers's work remains firmly rooted in life class drawing, necessitating the use of, and contact with, human models. Rodgers asks friends, acquaintances, professional models, and, sometimes, total strangers, to pose for him in a photography session. He then builds a scenario in a painting by pulling together elements from a wide array of photographs.
The resulting images are not snapshots or slices of life, not verite records of actual moments in actual families or party situations, or diaristic records of his family life, but carefully constructed and composited fictions, designed to elicit the most meaning and sustain the maximum amount of ambiguity.
Few living artists undertake the challenge of the realistic depiction of social markers because most lack the caste specific knowledge and the painterly aptitude required. Rodgers however, began life-studies painting as a high school student at the Corcoran Gallery of Art in Washington, DC.
Terry Rodgers attended Amherst College, with a major in the Fine Arts. His strong interest in film and photography influenced his style in the direction of representational realism in art. He spends summers each year in Southern France painting from life and photographically capturing the gestures, faces, and figures that inhabit the 21st Century milieu that he depicts in his paintings.
Download Links:
1st Set: 171 pieces of HQ JPGs, 800 x 600 resolution or better, 18MB (16MB in RAR), no password.

Link: http://www.filecloud.com/files/file.php?user_file_id=196066


2nd Set: 46 pieces of HQ JPGs, 1000 x 700 resolution or better, 14MB (13MB in RAR), no password.

Link: http://wwww.filecloud.com/files/file.php?user_file_id=196079
(Mirrors to follow)
If you want to download the collection in different formats, please don't forget to visit the previous uploads;

Terry Rodgers Site Collection by pariman

Terry Rodgers Site.chm by Ace Portal

Pictures of the artist Of Terry Rodgers by majidoneone