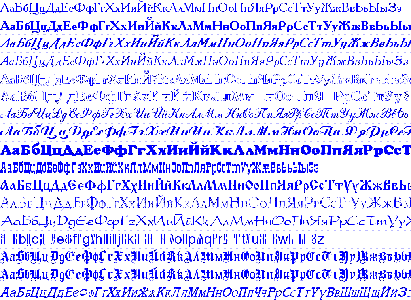 (fifth post in a series: TrueType fonts from My Collection)
Format: TTF (28 files) | Size: 1.5 Mb
These fonts are Cyrillic transliterated. It means Latin letters are replaced by similarly-sounding Cyrillic letters. Who needs such fonts, you may ask. Well… if you don't have normal Cyrillic support for some reason - then these fonts make it possible for you to print Russian (Ukrainian, Bulgarian, Serbian, etc.) words.
http://rapidshare.de/files/26374496/CYR_TRANSLIT.rar
no password
please don't re-upload this humble work of mine to OxyShare or elsewhere. Thank you for your understanding.
My previous uploads of TTF:
http://www.avaxhome.ws/graphics/vahvus-ttf-cyr-serif.html
http://www.avaxhome.ws/graphics/vahvus-ttf-cyr-sans.html
http://www.avaxhome.ws/graphics/vahvus-ttf-cyrillic-handwr.html
http://www.avaxhome.ws/misc_and_web/vahvus-ttf-cyrillic-fancy.html