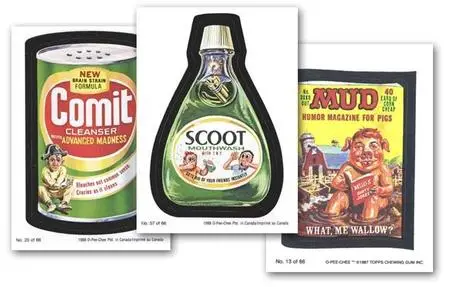 O-Pee-Chee
Wacky Package Collection
– Series 03, 04 & 05 [REPOST]
(not complete)
In the 1980s, when I was growing up, the O-Pee-Chee Company dominated young boys' imaginations. Not only did the London, Ont. firm make candy — beloved enamel-peelers like Fun Dips, Nerds and Gobstoppers — it also made bubblegum cards, a one-two punch that ravaged a boy's resistance.

London brothers John and Duncan McDermid opened their company inside the Somerville Paper Box factory in 1911. They named the new venture O-Pee-Chee after the joyous robin in Longfellow's poem The Song of Hiawatha, rolling out confections at one end of the floor and paper products at the other — including, in 1933, hockey cards, sold in wax packages with a dusty stick of bubblegum.

The arrangement held until 1964, when O-Pee-Chee won the rights to print Beatles cards for the Canadian market. Like all things Fab, the 60-card set sold frantically, and it made the candymaker into a card shark overnight.

Sharing a license with its U.S. counterpart Topps, O-Pee-Chee became a proxy archivist of popular culture. It commemorated the moon landing with a set of cards in 1969 and the Mounties' centennial in 1973. O-Pee-Chee had smaller print runs than Topps and managed to squeeze bilingual write-ups on every card, but like its southern twin, it faithfully mirrored the era's amusements — Welcome Back Kotter in 1976, Star Wars in 1977, Michael Jackson in 1984, and many others.

There were original creations, too — like the Wacky Packages, a series of stickers that parodied such venerable consumer goods as "Blisterine" and "Retch-a-Sketch." The series was designed by Art Spiegelman, a consultant for Topps who would later win acclaim (and a Pulitzer Prize) for his Holocaust comic book Maus. Spiegelman also created Wacky Packs' cousin the Garbage Pail Kids — a gruesome spoof of that fatuous '80s toy trend the Cabbage Patch Doll. (In 1988, a school board in Ontario petitioned the government to ban the Garbage Pail Kids, claiming the farcically fulsome stickers were too vulgar for the elementary students snapping them up. The plea was flatly refused, as my dog-eared collection proves.)

O-Pee-Chee's crown jewels, however, were its hockey cards, which they produced periodically in the '30s, '50s and early '60s until signing their deal with Topps in 1968, which made hockey cards a pillar of their business. Many of the cards are still prized today: a 1979-80 Wayne Gretzky rookie card — O-Pee-Chee No. 18 — recently sold for more than $62,000 US at a Chicago auction.

When the sports-card trade ignited in 1990, the field became crowded with glossy new sets. Though OPC's lineup still assimilated the latest fads — Teenage Mutant Ninja Turtles, New Kids on the Block — a rash of new sports-card brands shattered the Topps/OPC hegemony. To appease this new collector's market, O-Pee-Chee issued its 1992 hockey cards without gum for the first time in its history, after buyers complained the candy was soiling their investment. It was an ominous move.

The sports-card bubble burst just three years later. The industry in shambles, O-Pee-Chee announced it was leaving the collectibles racket to focus on, appropriately, candy. The brand was co-opted by Topps. In a final twist of irony, O-Pee-Chee was sold in 1996 — to Nestlé.
Found these while doing some cleaning in old boxes - O-Pee-Chee Wacky Packages (sorry - no gum! lol!)
just in case somebody might be collecting these - here's what I have in Series 03, 04 & 05… enjoy!
O-Pee-Chee Wacky Packages – Series 03 (1987)
more info: http://www.wackypackages.org/John_Mann_Website/opc/opc87.html
http://rapidshare.com/files/26183435/Wacky_Packages_03.rar
12MB
O-Pee-Chee Wacky Packages – Series 04 (1988)
more info: http://www.wackypackages.org/John_Mann_Website/opc/opc88.html
http://rapidshare.com/files/26183436/Wacky_Packages_04.rar
12MB
O-Pee-Chee Wacky Packages – Series 05 (1989)
more info: http://www.wackypackages.org/John_Mann_Website/opc/opc89.html
http://rapidshare.com/files/26183437/Wacky_Packages_05.rar
18MB