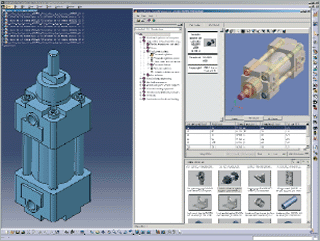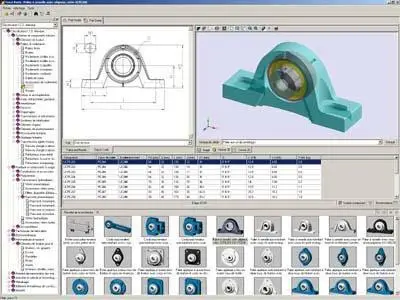 Trace Parts v2.3 | 650 Mb
Seamless data flow for optimum productivity. With ever-increasing requirements, there is the need to use processoriented, technical standards for communicating product data. To help you administer your CAD components and the associated product data, TraceParts supports integration in existing PDM/ERP environments.
This means that all the relevant data are still available centrally. Manufacturing companies can then benefit from seamless, intelligent networked processes.
Being an open system, TraceParts can be easily and flexibly adapted to any PDM/ERP system. Two practical processes are supported with this in mind:
Selecting standard parts using a PDM/ERP system
The components generated from TraceParts are first imported into the separate PDM/ERP system.
The complete data, such as material data, CAD drawing and article master data, are then directly transferred to the CAD platform to continue with the design process.
Using TraceParts as the main system for selecting components
TraceParts is used directly as the front-end for selecting components. This also involves a check being made automatically in the PDM system to see whether the component can be used.
Any CAD drawings that are available and approved are transferred immediately, while missing CAD drawings are created straightaway.
This means that both solutions prevent parts already used from being created more than once or parts that are not approved from being used.
Whatever process companies decide upon, all the relevant product data are supplied along with the selected CAD model.
size : 650mb
info :
http://www.traceparts.com/users/integration.asp
http://www.traceparts.com/users/tpdvd.asp
download :
http://rapidshare.com/files/40966203/Trace_Parts_v2.3.part01.rar
http://rapidshare.com/files/40966428/Trace_Parts_v2.3.part02.rar
http://rapidshare.com/files/40966685/Trace_Parts_v2.3.part03.rar
http://rapidshare.com/files/40967021/Trace_Parts_v2.3.part04.rar
http://rapidshare.com/files/40967388/Trace_Parts_v2.3.part05.rar
http://rapidshare.com/files/40972638/Trace_Parts_v2.3.part06.rar
http://rapidshare.com/files/40970618/Trace_Parts_v2.3.part07.rar
http://rapidshare.com/files/40970854/Trace_Parts_v2.3.part08.rar
http://rapidshare.com/files/40971190/Trace_Parts_v2.3.part09.rar
http://rapidshare.com/files/40971500/Trace_Parts_v2.3.part10.rar
http://rapidshare.com/files/40971691/Trace_Parts_v2.3.part11.rar
http://rapidshare.com/files/40972058/Trace_Parts_v2.3.part12.rar
http://rapidshare.com/files/40972290/Trace_Parts_v2.3.part13.rar
password : www.avaxhome.ws