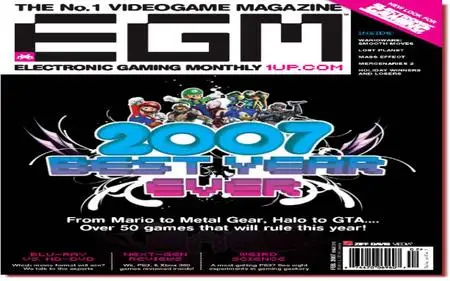 ELECTRONIC GAMING MONTHLY
2007 February| True PDF | 112 Pages | 18.5 MB
True pdf with searchable content, in full edition!
Electronic Gaming Monthly (often abbreviated to EGM) is an American video game magazine. It is published by Ziff-Davis as part of the 1UP Network and releases 12 issues a year (and an occasional extra "13th" issue for the Christmas season, also known as the "Smarch" issue, a reference to an episode of The Simpsons).
EGM concentrates on news regarding current video game consoles (see magazine content for detailed information). The December 2006 issue introduces new sections, expanded reviews, and focuses more on the acronym of the magazine's title in a redesign. This is the first issue redesign since June 2003.
The password is
"EGM at Avax"
(without quotes, include spaces)
The links to download from
ftp2share
Email me
notemart@gmail.com
if any links died or any further requests.