TECHNOLOGY REVIEW
2007 Jan/Feb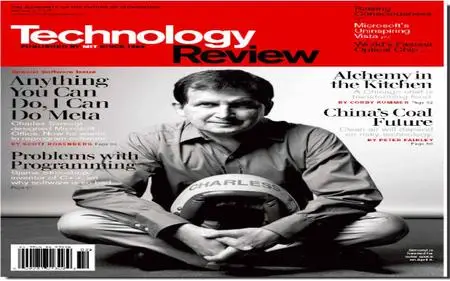 True pdf | 92 pages | 8.0 MB
True pdf with searchable content!
The link for downloading from
ftp2share.com
The password is
"TRV at Avax"
(without quotes, include spaces)
Technology Review is a magazine affiliated with the Massachusetts Institute of Technology. It was originally founded in 1899, and was re-launched on April 23, 1998 under then publisher R. Bruce Journey. In September 2005 it underwent another transition under the current editor in chief and publisher, Jason Pontin, to something again resembling the historical magazine.
Before the 1998 re-launch, the editor stated that "nothing will be left of the old magazine except the name." It is therefore necessary to distinguish between the modern and the historical Technology Review. The historical magazine had been published by the MIT Alumni Association, was more closely aligned with the interests of MIT alumni, and had a more intellectual tone and much smaller public circulation.
Under R. Bruce Journey, the magazine, billed from 1998 to 2005 as "MIT's Magazine of Innovation," focussed on new technology and how it gets commercialized; was mass-marketed to the public; and was targeted at senior executives, researchers, financiers, and policymakers, as well as for the MIT alumni.
On August 30, 2005, Technology Review announced that R. Bruce Journey, publisher from 1996 to 2005, would be replaced by the current editor, Jason Pontin, and would reduce the print publication frequency from eleven to six issues per year while enhancing the publication's website. The Boston Globe characterized the change as a "strategic overhaul." Editor and publisher Jason Pontin stated that he would "Focus the print magazine on what print does best: present longer-format, investigative stories and colorful imagery" and "focus the… pages of Technology Review on the impact of emerging technologies and discontinue our coverage of the business models and financing of new technologies." This focus resembles that of the historical Technology Review.
Email me
notemart@gmail.com
if any links died or any further requests.