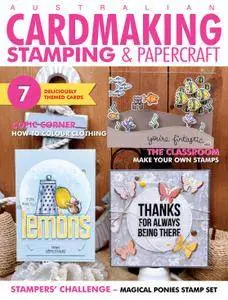 Australian Cardmaking, Stamping & Papercraft - April 2017
English | 84 pages | True PDF | 23.8 MB
Cardmaking, Stamping and Papercraft - Vol 23 No 6
PROJECTS
* ALOHA - By gayatri murali
* WATERCOLOUR FLOWERS - By kary Lim
* COUNTRY CHARM - By Wendy Hodkinson
* IN THE PLAYGROUND - By Niamh Henshaw
* ROSSIBELLE - By Julie munoz
* BRIGHT AND BEAUTIFUL - By Michelle Lupton
* FLUTTER OF BUTTERFLIES - By Samantha Klaebe
* FISH IN WATER - By Tania Cordie
PRODUCT SPOTLIGHT
* NEW PRODUCTS - New goodies to get your mojo going!
* TREND WATCH - High seas
* NEW RELEASES - Great new stamp designs to check out
SPECIAL FEATURES
* THE CLASSROOM - Easy ways to make your own stamps!
* ALL ABOUT FOOD - Tantalise your tastebuds with these yummy creations
* ONE TOOL, FIVE WAYS - Janet O'Brien shows us fi ve ways to use one punch
* COPIC CORNER - Colouring clothing using a digital image from mad for markers
* STAMPERS' CHALLENGE - Featuring a Your next stamp magical ponies set
COMMUNITY
* INSPIRATIONAL BOARD - Read where two experienced stampers got their inspiration to create their cards.
* READERS' FORUM - Your letters, submission faQs and readers' gallery
* IN THE KNOW - Find your nearest stamp club community