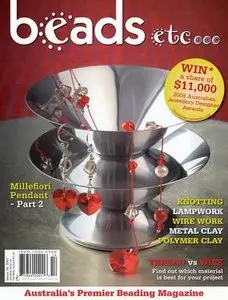 Beads etc - Issue 14, October 2007
Creative Living Media | English | 72 pages | JPG | 13.35 Mb
Learn the art of making beautiful designer jewellery. Each bi-monthly issue is packed with step by step projects featuring a variety of wire work, thread work, silver clay, polymer clay, chain maille and even glass bead making. We have something for everyone from beginners to the more experienced beader. Be inspired by the designs, specialist articles and artist features, and sharpen your skills with the valuable beading references, tips and techniques.
Beads etc - Issue 7, September 2006
Beads etc - Issue 12, July 2007
Beads etc - Issue 13, September 2007
Beads etc - Issue 17, May 2008
Beads etc - Issue 18, July 2008
Beads etc - Issue 19, September 2008
Beads etc - Issue 20, November 2008